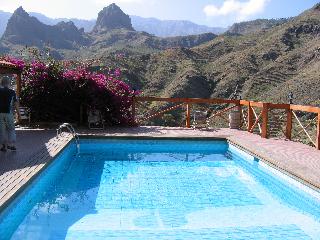 Pedracin Village O seu encontro com a natureza
É uma unidade de turismo rural inserida numa propriedade agrícola situada em Boca de Coruja, composta por casas em pedra basáltica cobertas de palha, construídas respeitando a arquitectura tradicional da ilha. Rodeada por uma paisagem luxuriante de vales verdejantes, onde crescem canas de açúcar, papaieiras, bananeiras e mangueiras, circundados por encostas abruptas cobertas de culturas em socalcos, esta unidade constitui um incentivo ao ecoturismo e ao turismo de montanha.
Tem uma capacidade de 64 pax, isto é, 30 quartos e duas suites, todos com água aquecida por energia solar, ar condicionado, TV, satélite, telefone e frigobar.
A unidade está equipada de piscina com solário, sala multi-uso e de conferência, bar e restaurante.
---

Pedracin Village is a rural touristic resort inserted in a farm at Boca de Coruja place, composed by basaltic cottages with thatched roofs, built respecting the traditional island architecture. Surrounded by a sumptuous natural scenery of green valleys in which sugarcane, papaya, banana and mango trees grow, flanked by abrupt slopes covered with cultures on terrace fields, this resort is an incitement to ecological and mountain tourism.
The lodging capacity is 64 pax, in 30 double rooms and 2 suites equipped with warm water solar energy, air-conditioned, satellite TV, telephone and minibar.
The resort is also equipped with a pool and a relaxing solarium, multiuse and conference room for 80 seated pax, a bar and a restaurant.
---

Pedracin Village est une unité touristique rurale, insérée dans une propriété agricole située à Boca de Coruja, constituée par des maisons en pierre basaltique couvertes en chaume, construites en respectant l'architecture local. Entourée par un paysage luxuriant de vallées verdoyantes, où poussent des cane à sucre, des papayers, des bananiers et des manguiers, bornées par des versants abrupts couverts de champs de cultures en terrasse, ce complexe constitue une incitation à l'ecotourisme et au tourisme de montagne.
La capacité est de 64 pax, dans ses 30 chambres doubles et 2 suites, avec eau chauffée par énergie solaire, climatisées, TV satellite, téléphone et minibar.
L'unité est équipée aussi d'une piscine avec solarium aménagé, salle muti usage et de conférence 80 places assises, un bar et un restaurant.
---

Pedracin Village è una struttura turistica rurale situata a Boca Coruja. Il villaggio è costituito da case di pietra di basalto con copertura di paglia, costruito con assoluto rispetto dell'architettura locale. E' circondato da lussureggianti coltivazioni terrazzate di canna da zucchero, papaia, banana e alberi di mango, Il complesso turistico rappresenta un esempio di ecoturismo in ambiente montano.
Può accogliere 64 persone nelle sue 30 camere doppie e 2 suite, dispone di acqua riscaldata con energia solare, aria condizionata, TV satellitare, telefono e minibar.
Dispone inoltre di una piscina con solarium, sala multifunzionale per conferenze da 80 posti, un bar ed un ristorante.