B&B CASA COMBA
casa dell'italiano

MINDELO - S.Vicente

Casa Comba : Consolidato ed apprezzato "Bed-Breakfast" a gestione famigliare italiana, ottime colazioni in terrazza panoramica, savoir-faire, vi sembrerá di essere a casa. Dispone di 6 camere e 3 mini-appartamenti confortevoli con cassetta di sicurezza, bagno privato con bidet, acqua calda, accappatoi microfibra, phon, ventilatori, (aria condizionata su richiesta), TV e internet gratuito nella sala colazioni, (a richiesta: frigo bar, lavaggio indumenti). Situato in posizione cruciale, al centro della cittá di Mindelo, (300mt. dalla stupenda "praia Laginha", 300mt. da "Praça Nova", 500mt dal porto. Quartiere tranquillo con strade asfaltate, nelle vicinanze sono presenti il comando della polizia e due cliniche private.
Lingue parlate: Inglese, francese, italiano, portoghese, creolo capoverdiano.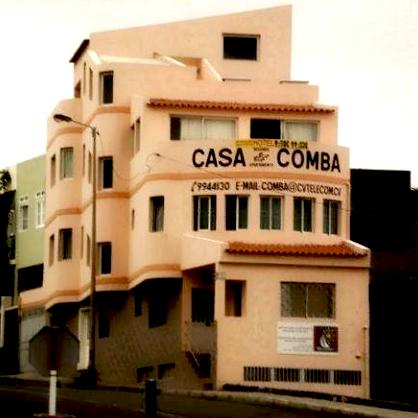 Languages spoken: English, French, Italian, Portuguese, Cape Verdean Creole.
---

Casa Comba Casa família "B-B"com gestao de italianos, ótimo café da manhã no terraço da cobertura com optima vista onde voce ,se sente realmente em casa. Ele tem 6 quartos e 3 mini-apartamentos com cofre, banheiro privativo com bidê, água quente, roupões de microfibra, secador de cabelo, ventilador, ar condicionado (a pedido), televisão e WIFI GRATUITO (a pedido: geladeira bar, lavar roupas). Localizado na posição crucial no centro da cidade de Mindelo, (300m. Da bela "Praia Laginha", a 300m. A partir de "Praça Nova", a 500m do porto. Bairro tranquilo com estradas pavimentadas, nas proximidades são o comando dos dois policiais e clínicas privadas.

---

Casa Comba Consolidated and appreciated "B-B" family run Italian, great breakfasts on the rooftop terrace, savoir-faire, it really feels like home. It has 6 bedrooms and 3 mini-apartments with safe, private bathroom with bidet, hot water, microfiber bathrobes, hair dryer, fan, air condition (on request), TV and internet access in the breakfast room (on request: refrigerator bar, washing clothes). Located in the crucial position in the center of the city of Mindelo, (300m. From the beautiful "Praia Laginha", 300m. From "Praça Nova", 500m from the harbor. Quiet neighborhood with paved roads, nearby are the command of the police and two private clinics.

---

Casa Comba Consolidated et apprécié "B-B" familial italien, super petit déjeuner sur le toit-terrasse, savoir-faire, il se sent vraiment comme à la maison, dispose de 5 chambres et 3 mini-appartements confortables avec coffre-fort, salle de bains privée avec bidet, eau chaude, peignoirs en microfibres, phon, ventilateurs, (air conditionné sur demande), télévision et accès Internet gratuit dans la salle de petit-déjeuner, (sur demande: un réfrigérateur, laver les vêtements). Situé dans la position cruciale dans le centre de la ville de Mindelo, (300m. de la belle "Praia Laginha", 300m. de "Praça Nova", à 500m du port. Quartier calme avec des routes pavées, à proximité sont le commandement de la police et deux cliniques privées.

---
Prezzi - Camera singola € 25, camera doppia € 35, camera tripla € 50.
Mini-appartamenti da € 350 a € 430 (vista mare), spese comprese.
(Tassa turistica non inclusa).