<!img src="../img/coc-c.gif">
2015
2019 <!img src="../img/star.gif">



Aquiles Eco Hotel
Sao Pedro - Ilha de S.Vicente
Rep. CABO VERDE



Aquiles Eco Hotel è situato a São Pedro, non lontano dalla spiaggia e a 7 km da Mindelo, l'Aquiles Eco Hotel offre la connessione WiFi.
L'hotel dispone di 12 camere (doppie e matrimoniali) e una suite con vista sul mare. Ogni camera è dotata di bagno privato con doccia e di balcone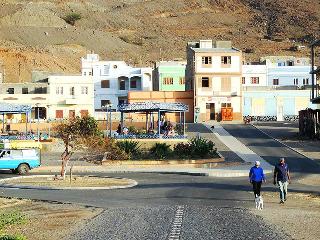 The hotel has 12 rooms room (double rooms and twin rooms) and a sea-view suite. Every room is provided with a private bathroom with shower and a balcony where to enjoy the city view and be more involved with the environment.
They consist in a simple portal "skeleton" made by 8x8 wooden bars, and a "skin" of assembled wooden panels. No need of air conditioning due to the crossed ventilation. No television, as we aim to encourage the discovery of the village and the open-air experiences. We offer instead wi-fi connection in the hall of the hotel and in the common spaces, to be linked with the world. Low-tech installation and little visual information let the visitors experience themselves and the surrounding environment.
Breakfast is included in the room price and is made up only of fresh local products.
We also offer a dinner made of a fusion Italian/Capeverdean cooking, with a first meal of pasta/rice, a second meal of daily-fished fishes and salads and dessert.
Other facilities offered at the property include a luggage storage and free parking.

Aquiles Eco Hotel
Sao Pedro - Ilha de S.Vicente - Rep. CABO VERDE
Telefone : (+238) 2 328002 - E.Mail reservas : reservas@aquilesecohotel.com
E.Mail comercial : info@aquilesecohotel.com - Sito : www.aquilesecohotel.com