<!img src="../img/coc-f.gif">
2014 <!img src="../img/star.gif">




Lanchonette D'Angela
(Angelas Restaurant)
Restaurante

Rua Amílcar Cabral - Santa Maria
Ilha do Sal - Rep. CABO VERDE



Buffet - Churrasco - Serviço à Lista - Fast Food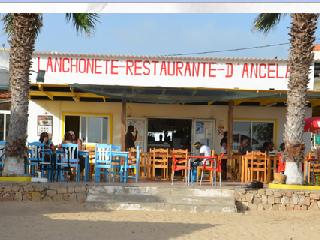 Em frente à Praia , mesmo no centro de Santa Maria existe um local onde pode desfrutar de momentos relaxantes e animados, com o clima da ilha e a gastronomia cabo-verdiana a fazerem-lhe companhia. Venha conhecer a Lanchonete Restaurante D' Ângela.
On the seafront, right in the center of Santa Maria there is a place where you can enjoy relaxing and lively atmosphere of the island and Cape Verdean cuisine to make you company. Meet the Lanchonete Restaurant D'Angela.

images&text from :http://restauranteangela.wix.com/cv#!


D´ANGELA -Lanchonete Restaurante
Rua Amílcar Cabral - Santa Maria - Ilha do Sal - Rep. CABO VERDE
Telef: (+238) 2 421362 - 9 931180
E.mail: lanchoneteangela@gmail.com