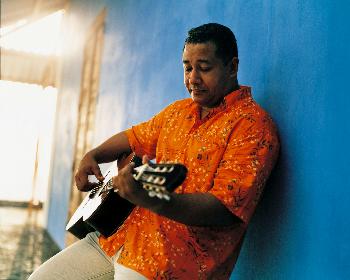 TEOFILO CHANTRE

It has often been said of Teofilo Chantre that he "appeared in the shadow of Cesaria Evora" before making a name with his own records. The expression used should be corrected, since it is hard to imagine an art as bright as that of the great lady of Cape Verde spreading anything other than light.

In fact, Teofilo Chantre's name was immediately noted by lovers of Cesaria's records, from "Miss Perfumado", on which he was already credited with three tracks, to "São Vicente di longe", where he provided no fewer than five songs. Teofilo also wrote the lyrics for Cesaria's Ausencia, to music composed by Goran Bregovic for the original soundtrack of the Emir Kusturica film Underground.

Since 1993, the four albums he has released in his own name ("Terra & Cretcheu" – 1993, "Di Alma" – 1997, "Rodatempo" – 2000, "Live" – 2002) have made him increasingly famous. There is a Teofilo "style", which cannot be summed up as just Cape Verdean "authenticity". Indeed, Teofilo Chantre has lived in France for more than twenty-five years and the diversity of his musical tastes – ranging from Bossa Nova to the classical boleros of the Spanish-speaking Caribbean – have shaped his ear and heart, opening them to wider horizons. All his influences are marvellously distilled in a writing whose melodic obviousness (his refrains often seem immediately familiar) is fully equal to its great harmonic sophistication. Suddenly, given modulations, given passages in distant keys, bring delightful surprises. And while most of his songs are steeped in "sodade" – Cape Verde's unique insular melancholy – the elegant swing of his coladeras reminds us that dancing is still one of the finest antidotes for sadness.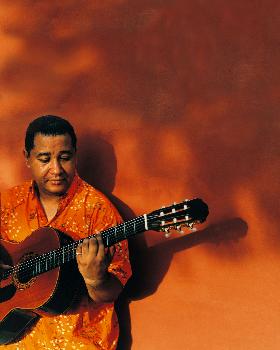 Today, "Azulando" – which might be translated as "blueing" – offers a rich palette of shades, from indigo to ultramarine. "For me, blue is inextricably linked to sodade," explains Teofilo. "But it's not really a concept album or anything like that. Some of the songs on the record were written fifteen years ago; I'm happy to continue down my path." True to the musical team who have been his companions for several years on both record and stage (Jacky Fourniret, accordion; Fabrice Thompson, drums and percussion; Sébastien Gastine, double bass and electric bass; Kim Dan Le Oc Mach, violin), Teofilo Chantre is also accompanied by many guests, including Cesaria Evora (featuring on Mae pa fidje) and Bonga, the great Angolan singer (Canta Cabo Verde). In the course of a track – Des bleuets dans les blés (Cornflowers in the wheat), co-written by Marc Estève, Art Mengo's partner – Teofilo effortlessly proves that the language of Molière is perfect for his sea-mist voice… As always, the lyrics convey his concern for the humble and disowned, favouring cosy intimacy over braying manifestos. Some are signed Vitorino Chantre, the singer's father. "He always encouraged me," Teofilo says. "It was a sort of tribute when I asked him for lyrics."

Once again, Teofilo Chantre has succeeded in translating into musical form the famous saying of the great Miguel Torga: "The universal is the local without walls."•