Funaná - Casa da Cultura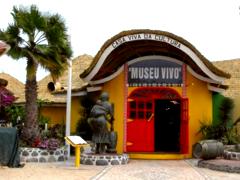 The most typical Restaurant dancant and Museum, from Cabo-Verde
For your best Moment in Sal Island chose FUNANÁ

Funaná the most typical restaurant of the Island over 20 years at your service.
it includes Funaná Typical dancing Restaurant and Bar and Live Museum

Museum Visit
Monday to Saturday 10 am to 12 am Guided Tour to Live Museum.
you may have the opportunity to get to know the Cabo Verde history, Music, dances, etinic movements, tipical wines, likors, grog cuscus or fidjós with sugar cane honey in just one hourŐs time.